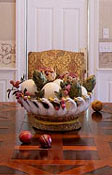 Lisa believes that, much like a timeless woman's wardrobe, the well-dressed room is an expression of good design, masterful contrasts, and personal style. She is committed to giving her clients a finished product that feels like their own and encourages them to add the personal touches of collections, flowers, and photographs.
An unexpected blend of complex color and texture are Lisa's signature style. She places important art pieces alongside baubles and trinkets with the intention of keeping a design from becoming too serious or stiff.
Lisa recognizes that successful decoration is a marriage of contemporary and classic, the serious and the whimsical. She acknowledges that comfort and style are equal partners and don't need to be in conflict. Her proudest accomplishments are spaces where music plays, your favorite people love to visit, and sunlight turns to candlelight in the blink of an eye.