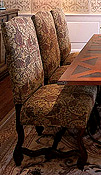 Lisa Newman Interiors, LLC is a full service interior decoration firm specializing in residential interiors and small, upscale commercial projects. Lisa Newman Paratore has nearly twenty years of experience in the field and has access to an extensive selection of trade-only textiles, furniture, window treatments, lighting, accessories, wall and floor coverings, as well as an extraordinary collection of fine art pieces from around the world. Lisa has customized her approach to best serve her clients' needs.
Most clients require both consultation and the implementation and installation of items specified in the design plan. A master plan is first created for the project, affording clients the opportunity to visualize the finished product prior to making purchases. All items may then be acquired through Lisa Newman Interiors at a discounted price. Occasionally, clients may require consultation only. These situations include the review of architectural plans prior to construction, the integration of recent acquisitions (i.e. inherited pieces) into a client's home, and rearranging an existing space to update and optimize its function and aesthetic appeal.
Both Lisa Newman Interiors and Homestyle maintain an A+ rating with the Better Business Bureau.